PA-150 Plethysmo Analyzer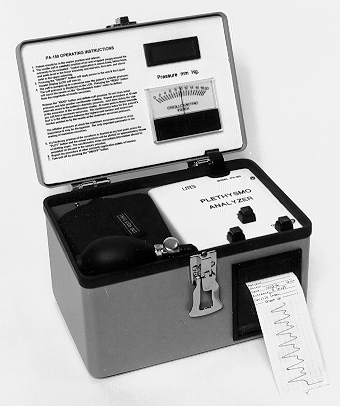 PA-150 Recording Plethysmo Analyzer
The PA-150 uses state of the art technology, developed to assist the physician in diagnosing peripheral vascular disease, diabetic screening for ischemia, and to monitor arterial grafts. Plethysmography is an indirect measurement of blood flow into a limb. UMA Plethysmo Analyzers accurately measure these volume changes.
Features:
An economical tool for non-invasive arterial investigation.
Dual displays for both blood pressure and oscillometric measurements.
Accurate and repeatable readings in the hands of multiple examiners.
An excellent predictor of the angiographic anatomy of the ischemic diabetic extremity.
Operates from 120V AC, with battery pack optional.
Built-in thermal plotter provides 50mm hard copy to record oscillometric waveforms and patient info.