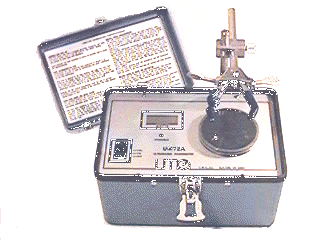 UMT-2A Ultrasound Wattmeter
The UMT-2A was designed for a quick test of output of ultrasound therapy generators.  Applicable for 1MHz, 10 cm2 transducers, set at continuous output.
The UMT-2A does not need degassed water for coupling, it uses ultrasound gel instead.
Features:
Solid State electronics (no moving parts).
Optional transducer holder.
Digital Red LED display.
Power meter calibration check (test cal).
Audible power reading steady indicator to ensure repeatable test measurements.
Visual and audible power-on / overheat condition alert.
SPECIFICATIONS

Input Power:
0-25 Watts
Operating Temperature:
65° F – 75° F
Resolution: 
0.1 Watts
Weight:
5 lbs / 2.3 kg
Accuracy:
± 7%
Coupling:
Ultrasound Gel
Linearity:
1.0%
Case:
6″ x 9″ x 6″ / 150 x 230 x 150 mm
Input Frequency:
1 M Hz
Applicable Transducer Size:
10 cm2
Power Supply:
120V, 60 Hz
Options: 
220V 50 Hz operation