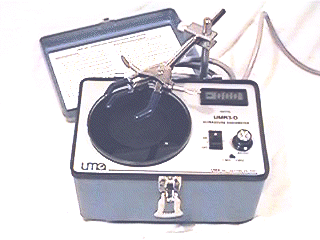 The UMR-3D is the power meter you need to service the 1 and 3 MHz continuous output therapy level ultrasound generators.
UMR-3D power meter offers a big value in a portable package designed to match your service requirements and priced to fit your budget.
Features:
Accepts 1 and 3 MHz transducers 
Transducer holder 
Quick response LCD 
Uses 1 oz. degassed water for coupling 
Frequency selector switch 
Fully contained in a compact case
Notes: For your convenience 1 oz. Degassed Coupling Water can be provided in packages of twelve. Annual recalibration is recommended.
SPECIFICATIONS

Input Power: 
0-30 Watts
Operating Temperature:
60°F – 80°F
Resolution:
0.1 Watts
Weight:
8 lb. / 3.8 kg
Accuracy: 
±3%
Coupling:
1 oz. Degassed Water
Linearity:
0.5%
Power Supply:
120V, 60 Hz
Options: 
220V 50 Hz operation
RS-232C
communication port
with Test Software
Case:
6″ x 9″ x 6″ / 150 x 230 x 150 mm
Applicable Transducer:
10 cm2 or 5 cm2