Non-TSO'd Pressure Senders
Model N1EUXXX(G)(D)(A)(S)
PART #
RANGE
MAX. PRESSURE
N1EU07(G)(D)(S)
0-7 PSI
29 PSI
N1EU35(G)(D)
0-35 PSI
145 PSI
N1EU70(G)(D)
0-70 PSI
290 PSI
N1EU100(G)(D)
0-100 PSI
406 PSI
N1EU150(G)(D)
0-150 PSI
580 PSI
N1EU70A
5-70 IN. Hg.
236 IN. Hg.
Non-TSO'd Temperature Probes
Part #
Size/Description
1B1
1/8 NPT
1B2
3/8-24
1B2-1
3/8-24 w/6′ shielded cable
1B3
5/8-18(.38 thread length)
1B3A
5/8-18 (.25 thread length)
1B3-2.5
5/8-18(2.5″ tip)
1B4
10mm X 1.5
1B6
16mm X 1.5 pitch
1B7
12mm X 1.5 pitch
1B8
1/4-20 Carb. Temp
1B9
7/16-20
1B10
1/4-28 Carb. Temp
1B11
1/4-18 NPT
1B12
5/16-24
All sizes also available with RTD sensor and/or 3-pin waterproof connector.
Type 1BX

UMA makes a complete line of temperature probes included solid state types. For engine monitoring, we have probes made of brass with thread sized from 1/4-28 to 5/8-18 and various metric sizes, as well as in many different lengths. We can custom make just about anything. We also have sparkplug ring sensors. Call or e-mail us with your specifications.
Bayonet Style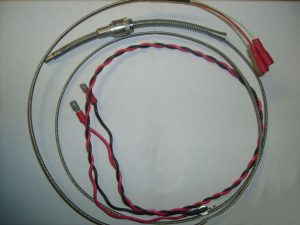 Clamp Style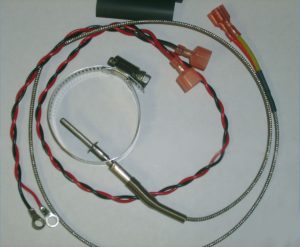 | Part # | Description |
| --- | --- |
| 2B02 | CHT Type J Thermocouple, 3/8-24 bayonet w/snap |
| 2B10 | CHT Type J Thermocouple, 10mm |
| 2B12 | CHT Type J Thermocouple, 12mm |
| 2B14 | CHT Type J Thermocouple, 14mm |
| 2B18 | CHT Type J Thermocouple, 18mm |
| 2B20 | EGT Type K Thermocouple, 1-5/8″ – 2-1/2″ clamp style |
| 2B21 | EGT Type K Thermocouple, 1″-2″ clamp style |
| 2B30 | EGT Type K Thermocouple, 8mm bayonet style |