This inverter package is designed to power a whole panel of UMA's EL light bezels and/or internally lighted instruments (up to 12). Models are available for 14V and 28V systems. Package has a dimmable DC input (use dimmer pot 1G01-1 and screw lugs to allow for a secure mounting.
Part#                   Power
10-700-14             14 Volts D.C. @100ma.
10-700-28            28 Volts D.C. @100ma.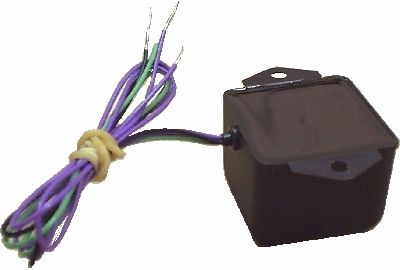 14 or 28V DC to 120VAC/400Hz Light Inverter, P/N: 10-800-14 & 10-800-28
The inverter converts DC to AC to power a set of light strips (power requirements vary by surface area). The inverter has 2 wires and mounting wings, which are the GND. Connect Black wire to EL light. Connect the red colored power wire (see chart below) to your DC source or instrument panel light switch thru 1A fuse. When using a dimmer, connect it between power and the inverter to vary the DC supplied to the inverter. The inverter AC output is Black wire, which carry AC current to power the light strips. Use 20-24 AWG twisted pair wires (or twist two wires a minimum of 8 turns per foot) for all connections between inverter and lights. You may connect up to 30 UMA light bezels (and/or internal instrument lights) or three large EL lights in parallel to one inverter (Beechcraft Bonanza).
DO NOT GROUND OUTPUT WIRE ANYWHERE!! UNDER POWER, DO NOT TOUCH BLACK WIRE WITH BARE HANDS!!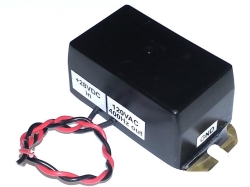 | Part # | Description | Red Wire | Black Wire |
| --- | --- | --- | --- |
| 10-800-14 | 12-14 Volt light inverter | (+)power in | 120VAC out |
| 10-800-28 | 24-28 Volt light inverter | (+)power in | 120VAC out |
| | Part # | Quantity | Description |
| --- | --- | --- | --- |
| Mounting wings=GND | 2-3X-X | 30 | 3 1/8" EL Light Bezel |
| Mounting wings=GND | 2-2X-X | 35 | 2 1/4" EL Light Bezel |